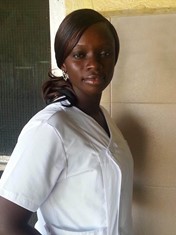 Yassah Lavelah had a option, but in her heart she had no choice.
Last summer, as the 2014 Mandela Washington Fellowship for Young African Leaders was winding down, Lavelah, a fellow from Liberia, received an offer from the U.S. Department of State to extend her stay in the United States. She would be safe from Ebola, which was ravaging her home country.
But Lavelah, a nurse from Monrovia, desperately wanted to get home. "How could I have remained when the people I love were sentenced to death?" she wrote in a blog post. "I made a decision to go back and help because Liberia is all I have. I love the United States, but Liberia is my responsibility."
She returned home to work side by side with her mother — just as they have for years. The two co-founded the Ma V. Maternity Clinic in Monrovia in 2005, a social enterprise. Lavelah applied for the YALI fellowship to study entrepreneurship in preparation to establish a midwifery center to address Liberia's high rate of infant mortality.
But Ebola came first. Lavelah attended to patients at a local hospital and in the field as a representative of the Ministry of Health. She also conducted workshops and lectures on disease prevention and safety.
And she experienced the power of the Notre Dame network. News of Lavelah's situation spread throughout campus and the Irish community raised $26,000 to purchase enough medical supplies to fill a 40-foot container. Lavelah was overwhelmed.
"It may seem like we are a world apart, but we couldn't have been closer as a result of the warmth and love that comes with this assistance," she wrote in an email. "To my family at Notre Dame ... you refuse to feel sorry for us; instead, you are standing with us shoulder to shoulder as we take on a common enemy in the Ebola virus. For this, our community and country will forever be grateful for your belief in the dignity of humanity."
These days, Lavelah is working on a project supported by the U.S. embassy to rebuild trust of pregnant women and new mothers who are hesitant to visit health facilities even though Ebola is no longer a threat.
She is moving forward on the midwifery center. "We bought the land and are currently in the process of raising funds to enable us construct the center," she says. "We are eager to open our doors to mothers and babies who so desperately need our help."