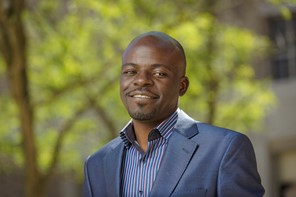 In prayer, Jackson Saya Ndonga reminds God that it would have been easy for Him to take his life many times. "I tell God, 'All you needed to do was withdraw your hand,'" says the 33-year-old from Nairobi, a 2015 fellow with the Mandela Washington Fellowship for Young African Leaders.
But God preserved Ndonga as an infant who couldn't absorb nutrients and shouldn't have lived through his first year. As a toddler falling from a balcony, breaking his head and jaw. As a boy playing tag and gashing his head on a door. And the next year being scalded by milk tea.
Then, at eight or nine years old, he started losing his eyesight rapidly. An untreatable retinal problem left him blind in the left eye and nearly blind in the right.
But he was never without vision. Ndonga has always had a sense of purpose, a lifelong certainty that God has a plan for him.
This has manifested in inspirational speaking that started at age 8; a career in medical parasitology to research deadly diseases; a commitment to his church through countless hours of leadership.
And entrepreneurial ventures, including an eight-step personal development framework with a title as relevant as it is funny — "Think Like a Parasite." Ndonga points out the parasite can be considered the "most successful of all organisms" with life lessons to teach, such as adapting to severe transitions and succeeding by strategy and not luck.
In addition to his speaking, Ndonga and three friends run a company called Akili Consulting, named for the Swahili word for "mind."
"We address the mind from three angles," he explains. "If it is malnourished, we feed it with muesli that we produce. If the mind lacks knowledge, we train it with programs and mentorship. If it is unwell, we treat will it with a spa based on natural remedies."
He has many more business ideas that his time at Mendoza has helped develop. "A creative mind can be like an untamed bush fire," he says. "The right tools contain that fire. My time here has helped focus my strategy. The mentors say, 'You can be good at several things, but what can you be best at?' Their guidance has changed my life.
"And the networks I've joined during my time at Mendoza — whether they're Notre Dame connections or my fellows from Africa — they have validated and expanded my ideas. I have grown to a whole new level."