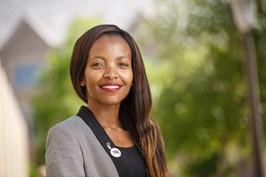 Lebohang Selloane stood in her boss's office with wonderful news. Not only had she been accepted into the 2015 Mandela Washington Fellowship for Young African Leaders, but she also had been invited to participate in a six-week professional development experience with IBM in Silicon Valley afterward.
"But my employer told me to choose between him and my dream," recalls Selloane, 28, who sold radiology equipment. "And I'm so glad I found the courage to choose to pursue my dream. This fellowship has been the best decision of my life."
Her time at Mendoza helped solidify Selloane's strategy to launch Visionary X-rays, a mobile X-ray services company to operate in rural areas and serve businesses with employees prone to occupational lung disease. She plans to launch in January in her hometown of Kutloanong, a mining area in the Free State province.
A diagnostic radiographer finishing up an MBA, Selloane gained support for Visionary X-rays by winning a nationwide business pitch competition in 2014. During YALI, she won a $25,000 grant from the U.S. African Development Foundation, which was given to just 40 fellows this year. Her time at IBM allowed her to develop business strategies for its Medical Sieve exploratory project in Africa and may result in a partnership for clinical case studies with Visionary X-rays.
Selloane is an experienced organizational leader as co-founder and chair of Dream Girls, a nonprofit that empowers young women to become skilled, confident and independent. Now she's ready to try her hand at business.
"Mendoza has showed me how much stronger my business plan can be," she says. "My time here has made me more committed to the development not only of South Africa, but also to the continent of Africa."
Visionary X-rays has a deep personal meaning for Selloane. Before she was born, her parents had lost four babies within days of their birth. Their lungs didn't develop properly, and there was no adequate care nearby. Selloane was born at a hospital 50 miles away from her hometown and spent her first year receiving treatment for her lungs. She had to limit her physical activity as a child. But she survived.
"My parents' loss humbles and inspires me because I know I have a purpose to fulfill," she says. "My name means 'to be thankful,' and I could not be more thankful for the opportunity to help others."