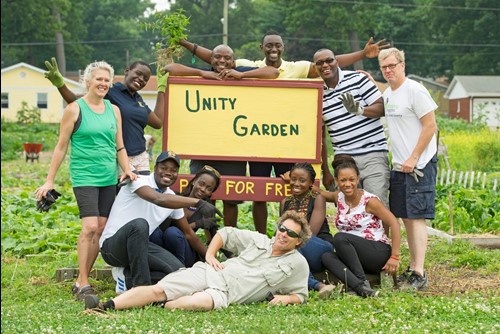 "That's the reason why most of your medium- to low-income earning people cannot access the Internet and participate fully in their communities or the world. Saisai will make this technology accessible to everyone and revolutionize and liberate Zimbabwe."
His time at Mendoza and connections he's made have inspired other ideas, and he has immediate plans to partner with ND students to create intercontinental startups. And he wants to return someday for a master's. "The Mendoza professors taught me how to create a more sustainable business," he says. "I've gotten a better understanding of how the funding ecosystem for startups actually works. I now understand the role of the venture capitalist function and other important concepts. It's information I would not have been able to learn if I had not come here. I find the environment and atmosphere here to be very conducive and the material and professors to be very insightful." 
Like Chingozo, Candice Potgieter of South Africa also discovered unexpected
connections through YALI. She was especially surprised at a field trip to Amish country in Shipshewana, Ind., where the fellows wandered through quilt shops and open food markets, getting a glimpse of their simple lifestyle. 
"It's nice to be immersed in this culture," she said. "Places like this really help you see similarities from country to country—that we're all humans and that there's a shared humanity among us."
These observations certainly reflect Potgieter's mission as CEO of the KZN Science Centre in KwaZulu-Natal, South Africa—to respect, not diminish, the lives of children who mostly live in rural areas by enriching their lives through science.
"Science should not only be for those who can afford it, it needs to be for everyone," she says. "Providing access to a science lab is a way of saying, 'You can be who you want to be.'" 
Potgieter, a 30-year-old astrophysicist, is wholly invested in this idea. She took the top post at the museum in 2012 while it was undergoing a name change, a funding crisis and a major reorganization. Not only did she stabilize the museum, which serves 180,000 visitors each year, but she also implemented new initiatives: mobile laboratories that bring science to rural areas; a program that introduces science to children ages 2-5; and a program that provides science equipment at low cost to schools, many of which have no equipment of any kind. 
After six weeks at Mendoza, she couldn't wait to get back home to implement the ideas she learned. 
"[YALI] allows you to take a step back and look at improving your organization," she says. "For our science center, we need to look at our funding models to see how to improve them. That's how nonprofit organizations can end up being sustainable, and how we can introduce our model to other African countries. The professors at Mendoza have given me great ideas to explore when I return home. They were really interested in my organization and improving it." 
Beyond strategies for her own organization, YALI helped Potgieter form connections with colleagues from other African countries that have illuminated possibilities on a continental scale. 
"These relationships and networks are incredible," she says. "Specifically, I plan to go forward with our science center model to introduce to other countries. But in general, we
share a vision to improve lives in Africa, and the YALI program will help us move forward."
---
Learn more about the YALI Mandela Washington Fellows program:
NPR Story: U.S. Program Helps Africans Learn Entrepreneurial Skills: http://n.pr/1xuq7kQ
Voice of America video profile of Mildred Apenyo: http://www.voanews.com/media/video/1966934.html
Young African Leaders Initiative Website: https://youngafricanleaders.state.gov/washington-fellowship/
Notre Dame YALI Website: https://yali.nd.edu