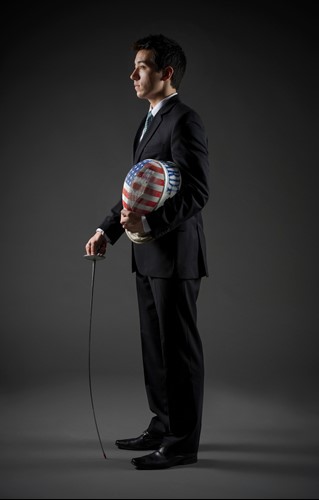 He skipped the Olympic closing ceremonies for college freshman orientation. Gerek Meinhardt had been the youngest fencer ever on Team USA. But he moved on before the 2008 Games were even over. His focus would be on Notre Dame. 
His future roommate, Jamie O'Brien, had been Facebook messaging with Meinhardt for weeks. They talked about their favorite TV shows and who would bring a futon. A San Francisco Bay Area guy, Meinhardt seemed easygoing enough. He liked basketball and planned to stream every possible Golden State Warriors game.
Finally Meinhardt mentioned that he'd be an athlete at Notre Dame. O'Brien got curious. He was starstruck at what he learned. "He told me he was a fencer but never hinted at the caliber he was," O'Brien says. "It took me Googlesearching his name to find out he was going to Beijing."
Still at Notre Dame six years later, now as an MBA student, Meinhardt remains as humble as he was while a freshman. Since then, he has won an NCAA championship in foil fencing, helped make Notre Dame a fencing powerhouse, and started gunning for the 2016 Olympics in Rio de Janeiro.
"Gerek will be remembered as the best male foil fencer here ever. The rise and dominance of Notre Dame foil starts with him," says his coach, Gia Kvaratskhelia. "If he gets to Rio in the shape he wants to be in, he has a legitimate shot at the gold." 
But injuries have made it a hard road—and it's not over yet. Only Meinhardt's extraordinary self discipline can see him through.