As Leo Burke and Jerry Langley prepare to retire, here's our tribute to their many contributions
---
Leo Burke is a gentle man.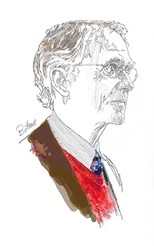 He speaks softly, and walks upon this earth sweetly — in the quiet sense of St. Francis, you could say. Former associate dean and director of executive education, Burke (ND '70) directs the Global Commons Initiative at Mendoza. The concept of a global commons, those things that must be stewarded rather than owned, is an abiding interest and concern of Burke's. He retires this spring after nearly 16 years at Notre Dame.
Another treasured professor, Jerry Langley, too, takes his leave at the end of this semester. As serene and cerebral as Burke is, there's Langley with a twinkle in his eye, hearty and down-to-earth. Langley came to Mendoza a year or so earlier than Burke as executive in residence, bringing a wealth of experience in commercial banking and international finance.
Both Burke and Langley came to Notre Dame from the corporate world. Burke worked for Motorola at the high-water mark of the corporation, he says, when cellular telephony was just coming onto the market. He was responsible for management development and executive education at the corporation's renowned Motorola University. During that time, he developed programs for new managers in both China and India, working out how to teach the tricks of the trade to people who had never operated in a market economy.
By the year 2000, though, storm clouds were brewing at Motorola, he says. That was right around the time that then-Mendoza dean Carolyn Woo came calling, wanting Burke to take over the executive education program. He was reluctant to leave the corporate environment. She didn't push as much as wait. "Let's just stay in touch," she would say.
When he did come on board, it was with gusto. He proposed and directed the expansion of executive education into new markets — an Executive MBA program in Chicago, satellite programs in Indianapolis and Cincinnati, and the Executive Integral Leadership (EIL) program.
EIL was born of Burke's sense in the late 1990s that the models being used for management and leadership education weren't nimble enough for a fast-changing world. Still, when the program launched in December 2002, he had no idea if it would work. "Theoretically, it looked very good," he laughs. "But you just don't know until you raise the curtain and go out onto the dance floor."
As it turned out, the Executive Integral Leadership program quickly became one of the College's signature programs, so much so that it's not only offered twice a year to executives as a stand-alone week, but it's also required at the front end of the Executive MBA program.
"Fundamentally, it's a deep dive into a process of self understanding. Leaders can get a sense of what in their behavioral patterns might enhance or inhibit their leadership effectiveness," Burke says. "Some of those are more functional and some are more dysfunctional. So basically, how can they improve? But how they can improve not just by learning a new technique, but by coming to a deeper understanding of who they are."
Over the years, a number of students have said the EIL part of their Executive MBA was worth the entire tuition. "The lasting residual effect that the program seems to have on people is like a long, time-release capsule that enables people to continually reflect and relearn the insights that occurred," Burke says. "Because it resonates with people at a place of depth, it has staying power."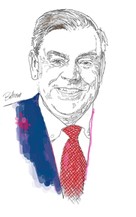 Jerry Langley has had his own kind of staying power as a teacher, clocking 17 years at Notre Dame after an already substantial 28-year career. He started out with American National Bank and Trust Company in Chicago, first in domestic loans, then running the international side of the business. He then moved to fast-food giant McDonald's, where he helped that company expand into 90 new countries over 17 years.
"McDonald's is a wonderful company — and because it's wonderful, people don't leave," says Langley, who was vice president of global system finance. To create openings for young management, the company made a sweet early retirement offer to all of its officers. "Here's my chance," Langley said to himself. He'd always enjoyed the opportunity to teach over the years. He liked seeing the light bulbs go on.
Around this same time, a light of a different kind began glimmering in his personal life. He and his high school sweetheart had found their way back to each other — the 32 intervening years vanishing. Carolyn Weber was on the faculty at Saint Mary's College, putting Langley in proximity to Notre Dame. They married in 1998. Then-finance chair John Affleck-Graves recognized Langley's potential, brought him in as an adjunct in the fall of 1999 and hired him full-time the following January.
Langley and Burke have stood at the head of the classroom, passed along insight, and raised complex questions. They sat with their students whenever they were needed, and other times, too. They developed friendships that endure. If a university is marked by its knowledge, its ethos and its people, Langley and Burke reflect the school well.
A love story
Here is a thought Burke wants to articulate about how hallowed he takes to be his role as a teacher: "What happens in the classroom is a love story," he says. "It's a strange thing, but almost every year, I just fall in love with these students — not as individuals, but as a collective. There is a sacred trust that I hold with them to give them the very best that I'm capable of and to, perhaps, contribute to awakening them to being better human beings."
Burke has taught many things in his time here — Emerging Trends in Business & Society, The Global Commons and Planet Earth, Business and the Common Good, and Executive Integral Leadership. As you might guess from the title of several of the courses, there are two layers to all of his classroom conversations. There is the topic, and then there are the deep ethical underpinnings — the bigger-than-big questions. His Emerging Trends course, for instance, focuses on shifts in world demographics and global energy. It covers technology trends including the internet of things, bio-engineering, and the block-chain transaction database, as well as changes expected in the global financial and food systems.
At the same time, as students process the information, Burke invites them to examine their perspectives.
"Students — especially executive MBAs — are caught in a vortex of activity without necessarily the opportunity to reflect on these deeper philosophical, and even spiritual, questions that actually run their lives," Burke says. "There's a quote that I use from Martin Luther King Jr.: 'I can never be what I ought to be until you are what you ought to be, and you can never be what you ought to be until I am what I ought to be. This is the inter-related structure of reality.'
"This interdependence has profound implications to how we set policy, how we go about business, what our ethics are in business. I feel strongly that the changes that are happening in the world will result in a different set of circumstances than we have today. And I want these students to be as prepared as possible. It's not just knowing about external trends; it's also having a deep consideration of who I am in this world in which I participate."
Burke's students aren't necessarily expecting this kind of discussion. "We had one student in our integral leadership course who said, 'Why am I wasting time with this stuff? We should be focusing on bond pricing strategies,'" Burke recalls. "But I'll get emails from students a couple of years down the road saying they see something they didn't see before and appreciate some of the dialogues that we had, so that's good."
He also gets a kick out of telling this story: "I hardly agree with Professor Burke on anything," a student once wrote on his course evaluation. "But I told my wife if I spent a year following him around, I'd learn a hell of a lot."
Beyond paychecks and transactions
Many students do feel as if Jerry Langley is right there in their back pocket when they take their place in the corporate world. Langley has a "here's how it really works" approach to teaching. In fact, he only uses one textbook, and that's only when he teaches International Finance to EMBAs. For his other classes, Langley draws from actual documents and field materials rather than using a textbook, which can become outdated quickly.
He's been instrumental in teaching undergraduate and graduate business students in Applied Investment Management (AIM), a signature Mendoza course where students manage more than $10 million of the University's endowment.
Langley makes it clear how much he liked his former profession. "I didn't just do it for a paycheck. I enjoyed it," he says. "And I want my students to understand, one of the best things were the business relationships. So I do stress in my classes that you make friendships in business that will last a lifetime. It's just not transactions. It's just not supply-demand. It's building relationships and networks and friends."
A story Langley enjoys telling involves a student who took his Bond Issue Process class the first time it was offered. Langley has his class actually launch a mock bond issue with Morgan Stanley. This particular student called him from his first job a few months after graduating. "We just did a bond issue," he told Langley with a touch of incredulity to his voice. "Believe it or not, we actually picked Morgan Stanley to be the banker that took us to market. It was just like we did in class. My boss said, 'How did you know all this stuff?' And I said, 'Well, we did this back at school.'"
"Dan," Langley responded dryly. "Did you think I'd made all that up?"
Many an early morning and later into the evening, visitors can find Langley in his office on Mendoza's second floor. He's one of those profs who values personal interaction with his students and makes time for them. "I would say I spend more time talking to students about career choices and what path to take than about homework and exams. They see me as that business guy that was out there."
The decision to retire, for Leo Burke and Jerry Langley, is bittersweet, of course. Burke intends to go on longer contemplative and meditation retreats. He's involved in some projects that continue to explore the concept of global commons.
Langley will keep his hand in, teaching International Finance to EMBAs in South Bend and Chicago over a weekend here and there. He'll also be teaching courses in the MSF and MNA programs. He'll still be in the area. He'll remain a passionate board member for the South Bend Civic Theater, for which he has faithfully sent Mendoza-wide performance reminders for years. He and his wife have a house in Granger and a condo in Lincoln Park, so they can visit Chicago freely. "It is going to be hard to walk out of here that last day," he says.
Indeed.