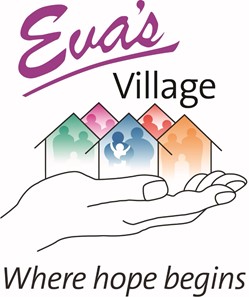 Eva's Village was founded in 1982 by the late Monsignor Vincent E. Puma (1926-2012), who was troubled by the homelessness and poverty he saw around him in the community of Paterson, New Jersey. He began with a simple approach — feed the hungry and shelter the homeless. Working with a few colleagues and other concerned citizens, he opened a community kitchen and a homeless shelter for those in need. 
But they didn't stop there.  One of Puma's favorite sayings was, "When you take someone's hand, you cannot drop it until they can stand on their own two feet." 
The group began working to address the underlying causes of homelessness — substance abuse and mental illness.  Over the years, Eva's Village added treatment programs and a recovery community center to help the addicted, a health-care clinic to provide medical and dental services, and an outpatient mental health program. 
Realizing that many mothers are reluctant to seek treatment for their problems because they fear having their children taken away from them, Eva's also opened the Hope Residence in 2008 to provide a safe haven and comfortable family environment for mothers struggling with addiction and their children. At the Hope Residence, mothers are given the support they need to get back on their feet through counseling and recovery services, and their children are nurtured through on-site childcare and education programs. 
For individuals and families battling addiction and/or homelessness, affordable housing and steady employment can be major obstacles. In 2010, the organization opened Eva's Village Apartments, which offers 50 units of affordable housing to Paterson residents. Eva's also assists its clients with preparation for job searches through a workforce development program. In 2014, it opened The Culinary School at Eva's Village, which provides students with a six-month training program to prepare them for a career in the food service industry.
Today, Eva's Village has grown to be one of the most comprehensive and effective social service organizations in the country. Each year, more than 330,000 meals are served in Eva's Community Kitchen; nearly 500 people stay in emergency overnight shelters, transitional housing and Eva's Village Apartments; the free medical and dental clinics handle in excess of 5,300 patient visits; and more than 2,400 individuals start on a path to recovery through Eva's substance abuse treatment programs, mental health program and recovery center.    
The mission of Eva's Village is to feed the hungry, shelter the homeless, treat the addicted and provide medical and dental care to the poor with respect for the human dignity of each individual.
---
For more information about Eva's Village, visit http://www.evasvillage.org
or contact Heather Thompson at (973) 523-6220 x236 or heather.thompson@evasvillage.org
To find out more about Eric and Wanda's stories and to read other clients' journeys, please view Eva's "Portraits of Hope" gallery at http://www.evasvillage.org/client-stories.html
Links to videos:
Eva's Village:  http://www.evasvillage.org/videos.html | The Culinary School at Eva's Village: https://www.youtube.com/watch?v=EE8FBkOEXx8