Up to the Challenge
Enlightened Diagnosis (EnDx), a company represented by a team of University of Notre Dame graduate students, earned second place in the 2015 Brown Forman Cardinal Challenge at the University of Louisville. The competition included 12 teams as finalists from university entrepreneurship programs around the world.
EnDx presented a business plan for a new device called Reveal3DTM that better analyzes and images breast cancer tumor biopsies than traditional methods. The device was developed by Notre Dame researchers Siyuan Zhang, the Nancy Dee Assistant Professor of Cancer Research, Jeremiah Zartman, assistant professor of chemical and biomolecular engineering, and David Hoelzle, assistant professor of aerospace and mechanical engineering. The student team charged with creating the business plan included Chief Technology Officer Scott Manwaring (MBA '15) and Chief Financial Officer Colin O'Toole (MSA '15), as well as graduate students from biological sciences, law and entrepreneurship.
Smart Woman Securities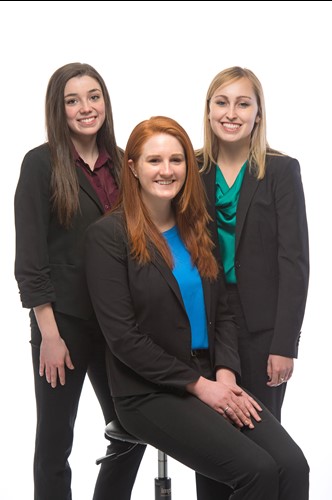 Smart Woman Securities (SWS) is a new student organization that provides Notre Dame undergraduate women with a strong foundation in finance and investment strategy. The aim is to help them better control their financial futures, said Eliza Moore (FIN '15), CEO of the SWS Notre Dame chapter. "We want to make sure that women have the skills and knowledge necessary to feel comfortable managing their own money," said Moore. "We also want to educate them more about opportunities in the financial industry and the business world and connect more women at Notre Dame."
Suzanne Fitzpatrick (FIN '15) serves as SWS co-chief investment officer. Associate Management Professor Katherine Spiess is the group's faculty adviser.
Started in 2007 by two Harvard graduates, the national nonprofit provides students with the opportunity to learn first-hand about financial markets and money management through mentoring and seminars. They also hear from successful investors, including Warren Buffett, who signed on as SWS's sponsor. Moore and Fitzpatrick, along with SWS member Madeline McCormick (FIN '17) traveled to Nebraska in March to meet the Oracle of Omaha himself. (Read Moore's account of the visit here.)
McCormick became interested in the group after completing a summer internship and realizing she needed advice as to how to begin an investment strategy for her earnings. She's far from alone. SWS cites an Oppenheimer Funds report that says 76 percent of women wish that they had learned more about money and investing growing up. Further, a Prudential Financial study found that 90 percent of all women will be the sole financial decision maker for their households at some point in their lives.