MANAGEMENT SPLIT
 In spring 2016, the Management Department was restructured into two new departments to represent more accurately the nine disciplines that fall under the "management" umbrella.
"Previously, the department comprised a broad array of disciplines under the single 'management' nomenclature, which painted very distinct areas of teaching and research with too broad of a brush," said Roger D. Huang, Martin J. Gillen Dean of the Mendoza College of Business. "It was critical that our organizational structure appropriately recognize the emergence of information technology and business analytics as distinct and substantive areas of knowledge and associated skillsets."
The restructuring process involved realignments of the full-time members of the management faculty into the appropriate department according to their areas of research and teaching. Former Management Department Chair Robert Easley became the chair of the Department of Information Technology, Analytics, and Operations. Associate Professor Craig Crossland was named as the chair of the Department of Management & Organization.
The new Department of Management & Organization houses the research disciplines of organizational behavior, human resource management, strategy, entrepreneurship, ethics and communications. It will continue to offer the current undergraduate management consulting major, as well as the innovation and entrepreneurship minor.
The faculty in the new Department of IT, Analytics, and Operations are researchers in the areas of information systems, business analytics and operations management. This department houses the current undergraduate IT management major and manages the area of business analytics in the College's master of science programs, as well as in the Notre Dame MBA curriculum. In fall 2017, the department will introduce a new business analytics major for undergraduates.
---
DISRUPTING POVERTY
The 2016 Irish Impact Social Entrepreneurship Conference focused on inclusive entrepreneurship, addressing the fact that ventures started by women and minorities remain capital-starved by traditional sources of capital despite demonstrated acumen and need. The October 27-28 event explored the theme through keynote speakers and panel discussions, as well as the larger picture of finding ways to disrupt poverty through entrepreneurship.
Amon Anderson, co-leader of Acumen America, served as the opening keynote speaker. Acumen America was launched earlier this year to invest in high-growth, high-impact entrepreneurs who are changing the way the U.S. tackles poverty by focusing on seed and Series A investments in the health, financial inclusion and workforce development sectors.
Irish Impact, now in its fifth year, is sponsored by the Haley and Zielsdorf Families; Gigot Center for Entrepreneurship at the Mendoza College of Business; and FISH (Fellow Irish Social Hub) at Innovation Park, Notre Dame.
---
CHEER, CHEER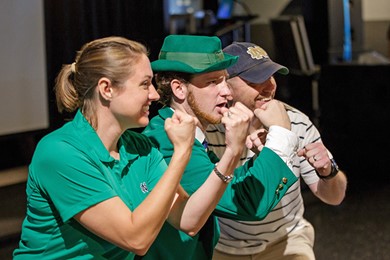 You couldn't ask for better teachers when it comes to learning the essentials of cheering on the Irish. During fall orientation, the Notre Dame cheerleaders and leprechaun led a tutorial in all things Notre Dame for the Graduate Business Students, including the words to the fight song and how to strike the famous leprechaun pose.
---