Noteworthy College, Faculty, Staff and Student News & Events
MENDOZA'S FIRST ONLINE CLASS FOR UNDERGRADUATES
Kristen Collett-Schmitt, finance associate teaching professor, piloted Mendoza's first undergraduate online class from June 1 to July 28, 2016. The enrollment for Managerial Economics was at capacity with 24 juniors and seniors.
Collett-Schmitt received a grant from the Notre Dame Office of Digital Learning to create resources for the class. She began working on the curriculum the previous January, aiming to give online students an experience as effective as being in a classroom.
The class consisted of short lectures, whole-group practice and discussion, and small group activities and presentations. Collett-Schmitt communicated through a web camera and shared presentations digitally. Students shared their screens, used a chat feature for questions and raised their hands virtually to participate. Additionally, Collett-Schmitt and the Office of Digital Learning created professionally produced videos to illustrate concepts of the class. The videos included interviews with Mendoza finance experts, the Chicago Mercantile Exchange, the Evil Czech restaurant in Mishawaka and Notre Dame students on campus.
The online format allowed students to take an evening class after participating in internships during the day. Many of the students chose to enroll in the class to lighten their schedules as they prepared to study abroad during the academic year. Students gave the class excellent feedback and recommended the course be offered in subsequent summers.
---
ONBOARDINGS:
Kevin W. Burke, a 1989 graduate of the University of Notre Dame and member of Notre Dame's Wall Street Leadership Committee, has been named the managing director of the Notre Dame Institute for Global Investing at the University's Mendoza College of Business. Burke retired as president of Conatus Capital in December 2015.
Burke will be responsible for implementing the vision of the Institute and managing its operations, including developing and directing curriculum and programs, mentoring students, and recruiting and coordinating faculty to participate in the Institute's programs. He will work in collaboration with the Institute's faculty director, Finance Professor Shane Corwin.
Chris Adkins took over as the executive director of the Notre Dame Deloitte Center for Ethical Leadership in July 2016. Adkins' teaching and research explores how the fields of neuroscience, psychology, philosophy and behavioral economics provide new insights and best practices for values-based leadership.
In addition to his teaching and research, Adkins designs leadership programs based on the neuroscience of individual and organizational flourishing for organizations, including World Bank, Saatchi & Saatchi, Deloitte, the Aspen Institute, IBM and others. He earned his B.A. and Ph.D. from the College of William & Mary, and his M.S. from Boston University.
Craig Crossland became the chair of the Management & Organization Department, which was created when the Management Department reorganized in May 2016. Crossland's research is in the area of strategic management, with a focus on senior executives and their effects on organizational outcomes. His work has been published in the Academy of Management Journal, Advances in Strategic Management, Organizational Behavior and Human Decision Processes, Strategic Management Journal, Strategic Organization, and two edited volumes.
Crossland previously worked as a physical therapist and in a number of product development roles within the medical device industry. He earned his bachelor's degree from the University of Queensland, Australia; his MBA from University College Dublin, Ireland; and his Ph.D. from Pennsylvania State University.
Katherine Spiess was named the associate dean for Graduate Programs as of July 2016. Spiess, an associate professor of finance, joined the Notre Dame faculty in 1991. Her research focuses on the stock market impact of security offerings, and her teaching interests are in the areas of mergers and acquisitions, corporate risk management and real options. She earned her B.S. and her Ph.D. from the University of Missouri. Her distinctions and awards include an All Star Paper recognition from the Journal of Financial Economics, a Kaneb Teaching Award, Outstanding Teacher in the MS in Management program, and a BP Amoco Outstanding Teacher Award.
Ken Kelley took over as associate dean for Faculty and Research in spring 2016.  Kelley, who joined Notre Dame in 2008, is an IT, Analytics, and Operations professor who researches the development, improvement and evaluation of statistical methods and measurement issues. He is an Accredited Professional Statistician (PStat®) by the American Statistical Association; associate editor of Psychological Methods; recipient of the Anne Anastasi Early Career Award given by the American Psychological Association's Division of Evaluation, Measurement and Statistics; and a fellow of the American Psychological Association.
---
 INCREASING THE BASE
---
THE ETHICS OF CHANGE
"Innovation" rapidly is becoming one of the most overused words in business. It suggests dramatic and positive change, but the ethical implications of innovation often aren't part of the discussion. In their new book, Ethical Innovation in Business and the Economy, marketing professors Georges Enderle and Patrick E. Murphy gathered a team of experts to explore the ethics of innovation, with chapters discussing a range of topics from the Maker Movement to executive compensation in the finance industry. The book is part of the "Studies in TransAtlantic Business Ethics" series published by Edward Elgar Publishing.
---
 FANNING CENTER NEWS:
2016 EUGENE D. FANNING AWARD IN BUSINESS COMMUNICATION WINNERS
Victoria Velasquez

(MGTC '17)

Chase Thompson

(ITM '17)
Each of the recipients will receive a permanent memento and a cash prize for their achievement. The Fanning Center for Business Communication bestows the annual award in memory of the life and work of Gene Fanning (ND '53). 
KEEPING IT IN THE ROOM
The Fanning Center for Corporate Communication hosted the 19th Annual Conference on Corporate Communication on October 7 and 8. The event brought together professionals and practitioners from many of the largest and best-known brands in the Fortune 500, along with a number of distinguished faculty who teach, publish and speak about business communication. The aim of the conference is to provide a confidential environment for attendees — almost three dozen chief communication officers from companies including Sprint, Harley-Davidson, Chick-fil-A and Allstate Insurance — to share current issues and best practices.
---
 SERVICE FOR REAL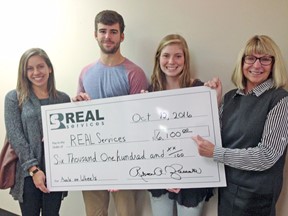 The undergraduate Principles of Management class taught by Chris Stevens (ND '74) delivered a check for $6,100 to Real Services for its Meals on Wheels program for senior citizens. The donation was the culmination of the class's fund-raising efforts over the last two months. 
---
 LEVELING THE PLAYING FIELD
Research by Pengjie (Paul) Gao, Viola D. Hank Professor of Finance, has prompted a congressional bill that would help level the playing field for historically black colleges and universities (HBCUs). The HBCU Investment Expansion Act would allow municipal bonds issued by HBCUs to be exempt from local, state and federal taxes.
The goal of the triple tax-exempt status is to increase competition for bonds issued by HBCUs, which pay 20 percent more on average for underwriting fees than non-HBCUs, according to Gao's research.
The unpublished study, "What's in a (school) name? Racial discrimination in higher education bond markets," compares data from 1988 to 2010 from HBCU and non-HBCUs with AAA credit ratings and that are insured by the same companies. During this time, 4,145 tax-exempt municipal bonds were issued by 965 four-year college and universities, including 102 by HBCUs.
For a typical-sized deal of $35 million, a non-HBCU school would pay $282,000 in underwriter fees, while an HBCU would pay $322,000, for a difference of $40,000.
Gao and his co-authors found that bonds issued by HBCUs are harder to place because of racial animus by potential investors. The cost of this animus translated to $5.1 million in fees over the course of the study — an amount equivalent to 1,392 students receiving grants or to the salaries for 113 faculty members. 
The HBCU Investment Expansion Act was introduced in September by Rep. Keith Ellison (D-MN). 
---