I sat nervously in the Chicago O'Hare airport terminal, awaiting the gate attendant's summons to begin boarding a flight that would take me through Istanbul, Turkey toward my final destination: Mount Kilimanjaro International Airport in Tanzania.
Admittedly, my trip to East Africa this past July had been one that was coming for some time. While in the seminary, I was all set to spend the summer in Uganda, Kenya and Tanzania; joining the Holy Cross priests working in the region since 1958. During that visit, I would live and work in our parishes throughout the district, with the primary task of learning more about the culture and being exposed to the Catholic Church beyond the United States. However, due to some complications that arose from traveling internationally just two years after September 11, 2001, I was unable to make the trip. Since then, I had been frequently reminded that I never made it over, with almost every conversation ending with, "We'll get you over there one day."
Truthfully, I wasn't in a big hurry. To cover my tracks, I learned all the PC ways of dodging the bullet. "I have so much going on right now." "International flights are very expensive during this time of year." "The only Swahili I know, I learned from The Lion King."
But the truth was, I was nervous. Anxious about leaving my own comfort zone, worried about what the food was going to be like, concerned about living in a foreign culture that I had absolutely no experience with.
Stepping off that large Boeing 777 in Istanbul didn't make things any better. It simply meant I was more than halfway there. Soon, I would no longer be protected by the inflight meals and easy access to distracting movies at the push of a button. Seven hours to go.
At roughly 1 a.m. local time, we touched down on the great continent of Africa. With my nervousness at an all-time high and the anti-malaria meds flowing through my system, I collected my things and headed toward customs.
But here's where my experience changed. A new adventure was emerging. Waiting on the other side of customs was an energetic Holy Cross priest — Father Prosper Tesha, CSC. Standing amidst the sea of taxicab drivers, he greeted me by name and ushered those traveling with me to the car. As we made our way out of the airport and on to the two-lane highway, I could see the dimly lit outlines of houses, stores, farms and mountains. Mile after mile — or more specifically, kilometer after kilometer — we eventually made our way to Sacred Heart Parish in Arusha, Tanzania. Arriving at the rectory around 2:30 in the morning local time, Father Tesha showed each of us to our room, demonstrated to me how to use a mosquito net for my bed, and then encouraged me to leave my things and head to the dining room for a meal that he had prepared.
Dinner? At 2:30 in the morning? As we sat there talking about the day over rice and some type of stewed beef, I instantly felt a sense of relaxation. The knot in my stomach had been dissolved by the welcome and hospitality of Father Tesha. From that point forward, I was set free to experience Tanzania, the people, the food, the culture; to allow that time and place to lead me down roads that I could not have imagined and create cherished memories that I am grateful for today.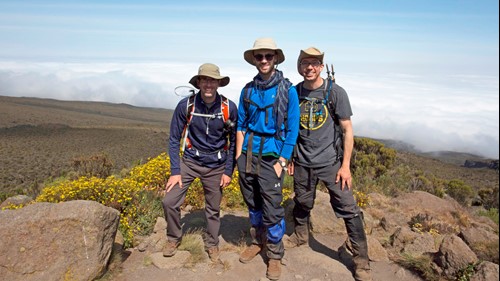 One of those roads was actually a trail. In the last full week of July, I was set to hike Mt. Kilimanjaro alongside Father Pat Reidy, CSC, rector of Keough Hall and Javi Zubizarreta, a member of Notre Dame Fighting Irish Media. We were an unlikely team. Father Pat had been to East Africa before, but none of us had ever hiked a mountain like Kilimanjaro, which stands 19,341 feet tall and is listed as the world's highest freestanding mountain. Heck, I didn't even own a pair of hiking boots when we decided to make the climb.
We were drawn to this adventure in one part to make up for my failed attempt in 2003, a trip intended to expose me to the wider ministerial presence of Holy Cross in East Africa, while also recognizing the importance of embracing two weeks that would require us to be pushed out of our comfort zones and encounter a new culture. For months we trained as best we could, but it's difficult to simulate the altitude and fatigue that comes from six- to eight-hour hikes spanning five days. Javi would take his boots into the gym and put the treadmill at a high incline, Father Pat found that riding his bike trainer worked best, while I did a combo of treadmill runs and workouts on the stationary bike.
We began the hike in what could best be described as a rain forest. Waterfalls, thick moss, misty air and monkeys swinging from trees. By the end of day two, we were sufficiently above the tree line and could finally get a good view of the mountain. But the most difficult challenge was ahead.
We arrived at Kibo Hut, the third and final basecamp, which sits at 15,430 feet around 2 p.m. Our guide instructed us to take some downtime and be ready for dinner at 5. After sharing a meal with Father Pat and Javi, we were then encouraged to get some sleep so that we could be prepared to make our ascent at midnight with the goal of reaching the top by sunrise.
As I lay in my sleeping bag, the time felt like it was moving in slow motion. Let's go! At 11 p.m. we began to pack our things and by midnight, with our headlamps firmly secured, we stepped out on Kilimanjaro. The first thing I noticed was that this part of the mountain had a different texture. The trail was covered with loose gravel, which made hiking more difficult. One step forward and a half slide back. Couple that with limited sleep, cold weather, diminishing amounts of oxygen and you've got one heck of a challenge on your hands.
I hit the wall at 17,000 feet. Barely able to breath, with a headache that seemed to get worse by the minute, I pulled up on a rock and said to the guys that I don't think I can make it to the top. My guide gave me a minute to catch my breath, some Tylenol to handle the headache and then offered to carry my backpack the rest of the way.
This was critical. In my greatest moment of weakness, my team had me covered. Their strength made me strong. Their belief in me, helped me to believe in myself.
As we journeyed further up the mountain, I challenged myself to avoid becoming self-absorbed in my own struggles; rather, to be more attentive to the needs to my team. We were going to make it to the top together.
We reached the summit at 7:20 a.m. With the sun climbing in the east, shooting rays of light on the previously dark and colorless rock, I felt a pure aand distinct sense of hope. We made it! From my new vantage point I stood above the cloud line and gradually, as the sun continued to climb, encountered the sky to have a blue and more vivid texture than I had ever seen in my life.
Standing at what felt like the top of the world, I received the next challenge: Start the journey home. The air is so thin at 19,000 feet that our guides wanted us to off the mountaintop after the first 20 minutes, and they really wanted us to leave as we approached 40. Suffice it to say, the trip down was a complete relief. Step after step, we were nearing sea level and gaining oxygen. Step after step, we had the chance to cheer on pilgrims making their way to the top.
Looking back, I'm simply grateful. While I have no immediate plans to return to Tanzania in the future, I will always carry these experiences with me. Further, I'm reminded that meaningful friendships, ambitious goals, insights about faith and new perspectives often occur as they say in Swahili "pole, pole," which translates to "slowly, slowly."