TAP Staffer
Recognized with

Values Award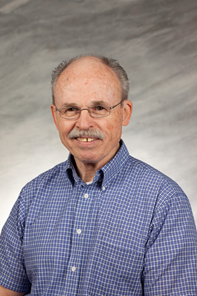 Thomas Bullock, a Mendoza College staff accountant who works with the Tax Assistance Program (TAP), received the Notre Dame Presidential Values Award during the 2014 Service Recognition Dinner in May. The Presidential Values Award is given to employees whose performance reflects the University's core values of integrity, accountability, teamwork, leadership in mission and leadership in excellence. 
TAP was launched in 1972 by Accountancy Professor Ken Milani to provide tax preparation assistance to low-income people in the local community. The program has grown exponentially over the years, preparing more than 4,000 tax returns for 2013. Bullock works especially with international students—a complex task requiring knowledge of the peculiarities of tax law for aliens who are obliged to file U.S. tax returns.
In bestowing the award, the University lauded Bullock for serving as an excellent role model to the student volunteers, and for providing essential logistics support to the program, which operates nine help centers and organizes "SWAT" teams to visit homebound or hospitalized residents. 
Dancing for a Good Cause
On the last day of the spring semester, Mendoza undergraduates dressed up in their finest for an evening of fun for a worthy cause. About 250 students, faculty and staff members turned out for the Mendoza Undergraduate Gala, held April 30 in the Morris Inn ballroom. Band du Jour, a student band featuring accountancy student Elizabeth Curtin ('15) as one of the singers, provided the music.
The inaugural event was sponsored by the Mendoza Student Leadership Association and underwritten by a donation from the Mastrovich family, which allowed all the proceeds to go to the Declan Drumm Sullivan Fund and Horizons for Youth. 
"The MSLA wanted to create a signature event for the college that celebrated the hard work done throughout the year and build on the sense of community within the college," said Alison Levey (FIN '84), Undergraduate Studies academic and MSA adviser. "It was very important to them that it have a charitable aspect as well, and honoring a Notre Dame student who had been part of the college seemed a perfect fit." Sullivan's sister Win, an ND senior, and his brother Mac attended the gala.
Sullivan was a junior at Notre Dame when he died in October 2010 after the tower he stood on to videotape football practice collapsed in high winds. The Declan Drumm Sullivan Fund and Horizons for Youth offer mentoring and college preparation to low-income children.
Competition MBA Style
In the past year, Notre Dame MBA students have racked up an impressive list of case competition wins against some of the top-ranked b-schools on a range of topics from marketing the Ironman triathlon to promoting diversity. Here's a select list of results:
1st Place

BYU Social Entrepreneurship Case Competition

1st Place

University of Louisville Business Plan Competition

1st Place

Key Bank Ohio State Diversity Case Competition

1st Place

San Diego State University Sports Case Competition

2nd Place

EY Diversity Case Competition

2nd Place

Association for Corporate Growth Indiana M&A Case Competition

2nd and 3rd Place

Arthur Page Case Writing Competition

2nd Place

Leeds Net Impact Case Competition

2nd Place

Regional VC Investment Competition
Liz Tucker: NCAA Woman of the Year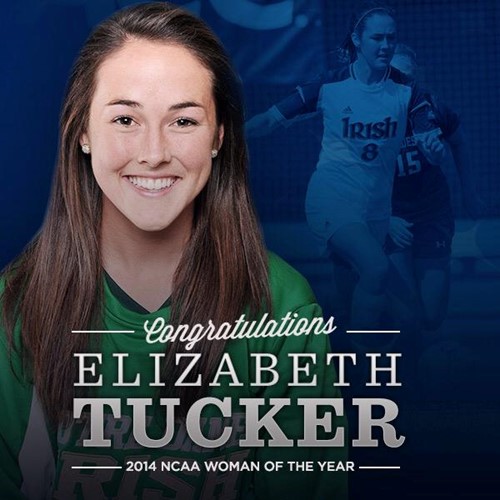 Elizabeth Tucker (ACCT '14) was named the 2014 NCAA Woman of the Year, the first Notre Dame student-athlete in history to be selected for the prestigious honor. The award honors graduating female student-athletes who participated in NCAA-sanctioned sports and distinguished themselves throughout their collegiate careers in the areas of academic achievement, athletics excellence, service and leadership. She was the first soccer player ever to be chosen.
Tucker, who currently works as a consultant at McKinsey & Company in Chicago, emerged as the 2014 NCAA Woman of the Year recipient following a rigorous selection process that began in June when NCAA colleges and universities nominated 446 student-athletes for the award. Her athletic prowess, academic achievements and commitment to service were cited in the award announcement. 
"This is a landmark day for Notre Dame and Fighting Irish athletics," said Jack Swarbrick, Notre Dame vice president and director of athletics. "Elizabeth has been a tremendous ambassador for our University and our women's soccer program during the past four years. The contributions she has made are almost endless and will live on well after her graduation from Notre Dame. She is selfless, caring, intelligent, competitive and compassionate. In short, Elizabeth is everything we could ever hope to find in a Notre Dame student-athlete, and we could not be more proud to celebrate Elizabeth's selection as the 2014 NCAA Woman of the Year."